Jindals Guarantee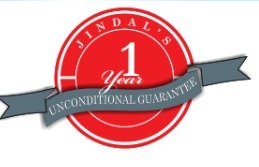 JINDAL'S believes in helping its customers achieve the Lowest Cost of Ownership and endeavours to support its customers throughout the life their equipments ...even beyond the Guarantee period. We recognize that any down time of critical equipment and machinery is expensive. Our highly skilled team of service experts, equipped with full range of tools & spares, is spread in a manner to get your equipment back on line, in the shortest possible time. Our service downtimes are the least in the industry, and our service network is the most wide spread. It's a different matter though that JINDAL'S equipment rarely requires any corrective maintenance. The JINDAL'S promise of Quality, Service & Commitment guarantees you Total Peace of Mind in all times to come. And we can proudly say that in more than five decades of our existence, we do not have a single dissatisfied customer.
Customer Satisfaction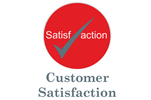 At JINDAL'S, we believe that customer satisfaction is a result of quality products complemented through a team of talented and skilled professionals in the power industry. Our unmatched experience, commitment and network made us the first organization in the industry to offer an'ONE YEAR GUARANTEE'. We do not change anything for spares & service during this period. Visits to anywhere within India are undertaken free of cost in the guarantee period.